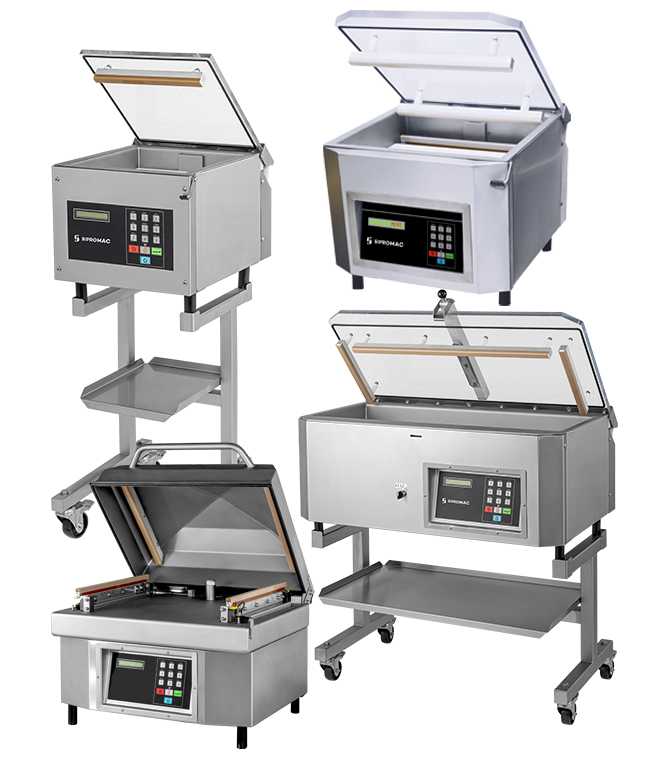 Ideal for small spaces, small production volumes and start-ups
The tabletop vacuum sealer is the solution for sealing your small foods. Whether you are a start-up or an established business, this model is well-suited for small production volumes. It's compact and easy to handle, and can be used right on the table or counter to maximize your production space.
Table top sealers are perfectly adapted to the most demanding needs of grocery stores, butcher shops, restaurants and hotels for vacuum packaging of meat, poultry, fish, cheese and more. They are also suitable for vacuum packaging of pharmaceutical, medical or laboratory items as well as for the various needs of the electronic and institutional sectors; printed circuits, coins, clothing, etc.
Features
Stainless steel construction
Stainless steel lid
Item: 6mm twin bands
MC-40 microprocessor with % for precise vacuum
Quiet – for sound reduction when aerating at the end of the cycle
Lid latch
Insert plates (2) for packing height adjustment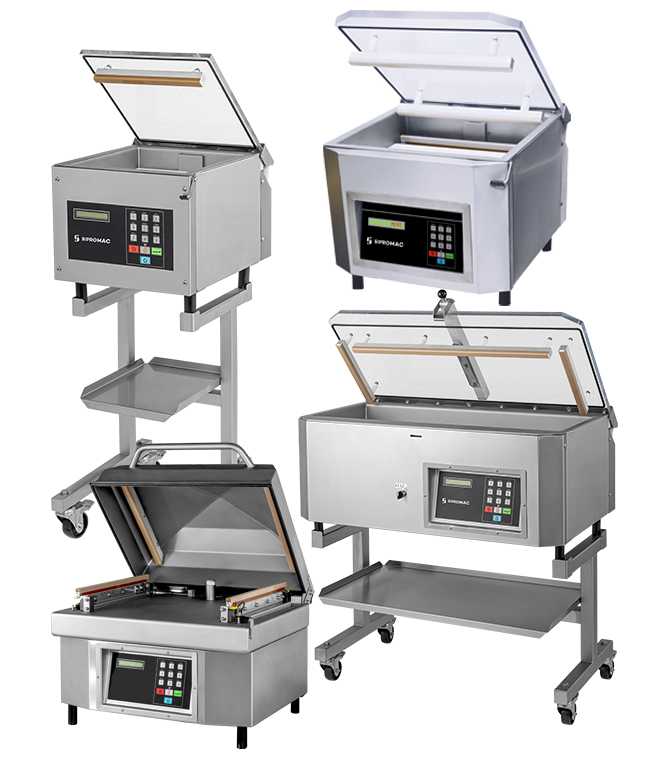 Seal bars
Length
2 x 19.1" (485 mm)
Distance between bars
22.0″ (559 mm)
Machine
dimensions
Width
30.5″ (775 mm)
Length
28" (711 mm)
Height
21" (533 mm)
Chamber height
8" (203 mm)
Busch Pump
20 m3/h
Estimated cycle time (99.5% vacuum)
40 to 45 seconds
Voltage
120 V / 1Ph / 60 Hz, cable and 20A plug
Microprocessor
MC-40
Weight
384lb
Packaging
Wooden crate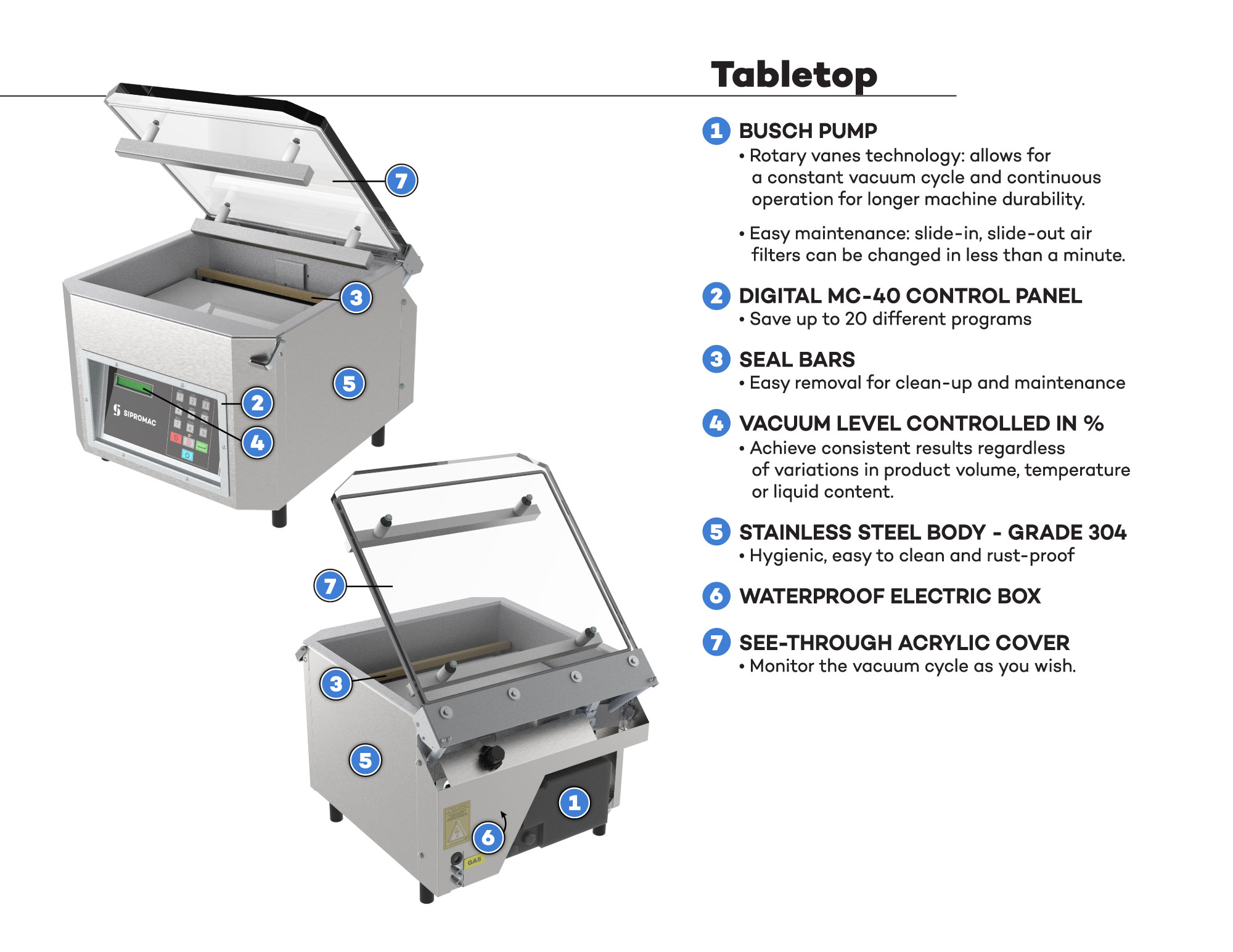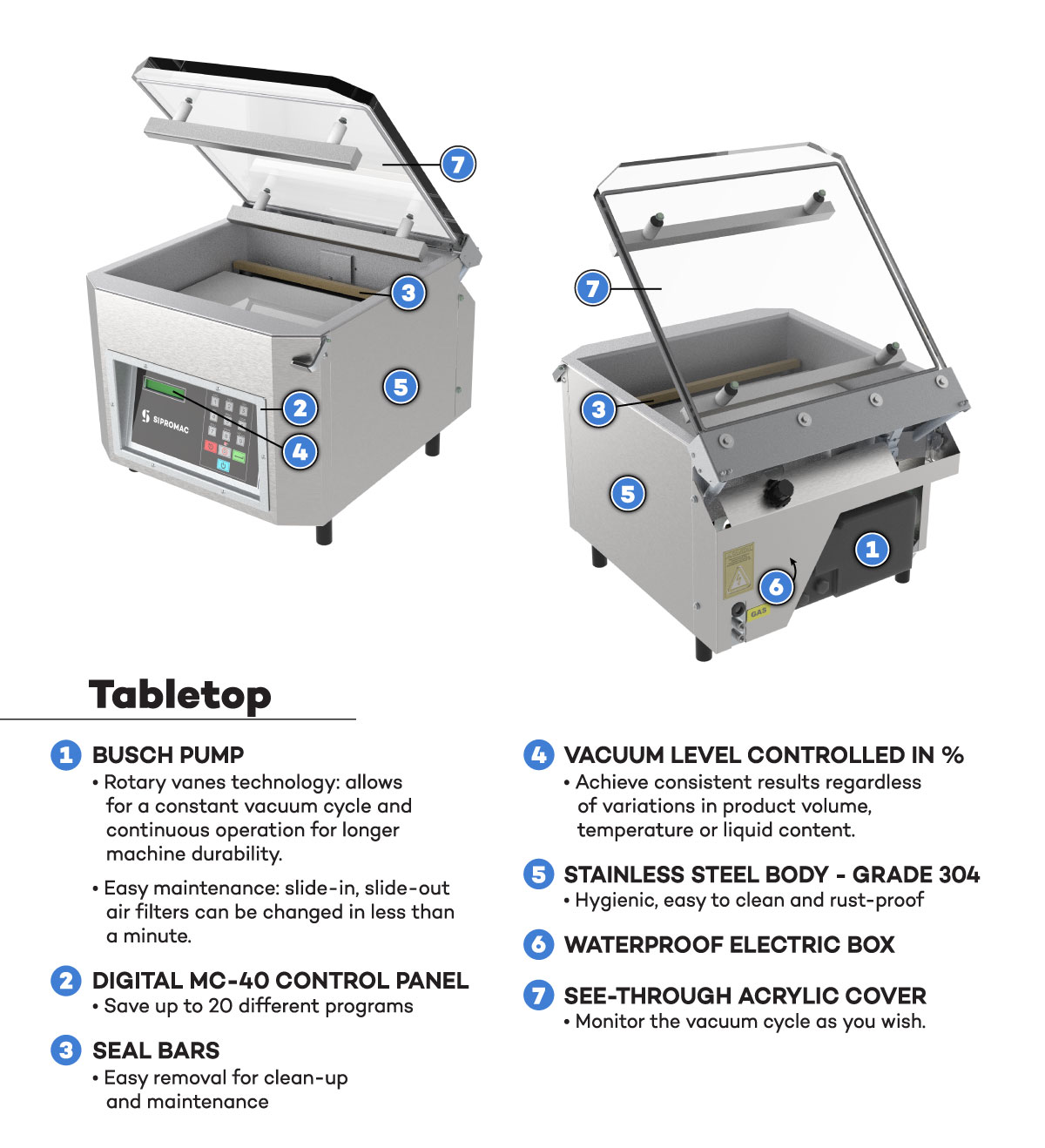 Testimonials from satisfied customers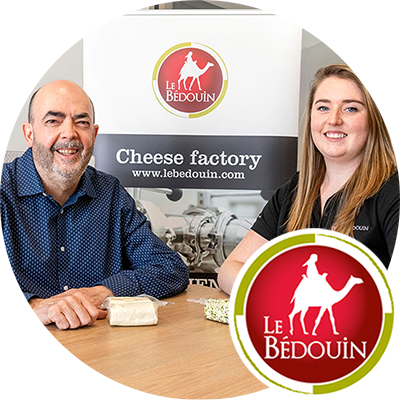 - Camille Salvas
Fromagerie Polyethnique
Le Bédouin
« We have been using Sipromac for over 20 years. It's been so efficient in giving us great production capacity that it's allowed us to double, even triple it! »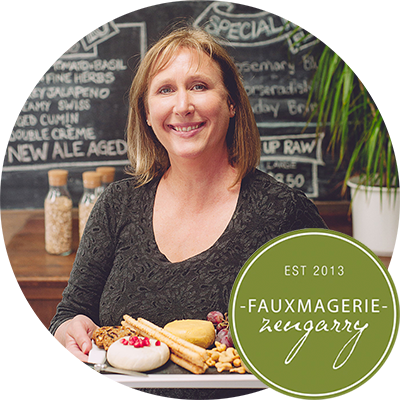 - Carly Foley
Fauxmagerie Zengarry
« We started vacuum sealing our cheeses because we had some quality issues. The sealer really saved us. As soon as we started vacuum sealing, our quality problems disappeared. »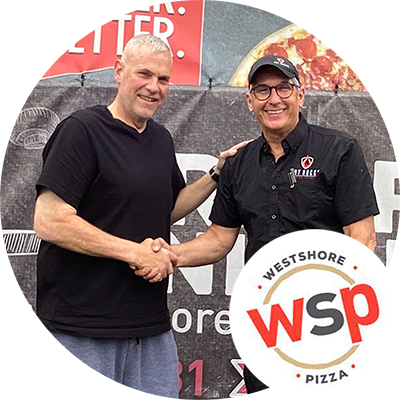 - Bob Vasaturo
Westshore Pizza
« We used to cut a quarter stick of salami and turkey at a time. Now we can cut the whole thing in one go and the product lasts three times as long. It saves us a lot of time. It's so fresh when you open it, it's like you just sliced it. »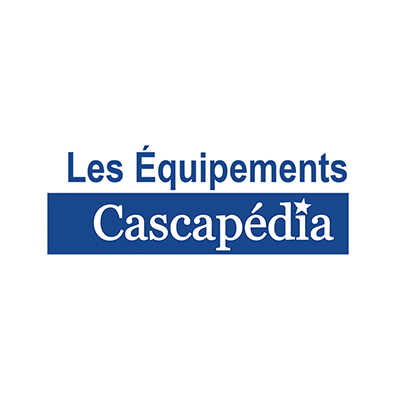 - Renaud Henry
Les équipements Cascapédia Inc., distributeur officiel
« I just finalized a delivery for one of my customers. I always work with the best manufacturers. Two pieces of equipment were delivered on time, Sipromac being one of them. I am satisfied with the double chamber vacuum sealers. With the connectors attached to the stainless-steel seal bars, I give them a score of 100%.
I've been in the business for over 30 years and I can assure you that Sipromac vacuum sealers are way ahead of the competition. »