When looking for a commercial vacuum sealer, there are so many choices out there. Should you save money and buy a low-cost unit, or should you invest in a higher-quality one from the get-go?
Based on a machines comparison, here is a list of important elements to consider to make an informed decision.
Sipromac Tabletop Vacuum Sealers

Low-cost Tabletop Vacuum Sealers

Life span of over 25 years

Average life span of 5 years

5 machines needed over the life span of a Sipromac = more materials and resources used

Full stainless-steel construction

Robust and heavy-duty, grade 304

Stainless steel frame only

Interior in plastic or aluminum

Tends to bend inward due to pressure

Busch pump

Highest quality in the industry, engineered for hours of continuous operations

Rotary vanes technology creating no friction between parts

Continuous, smooth vacuum offering higher vacuum pull

High speed

Low-cost pumps

Can either be dry-pumps or entry-level oil-pumps

Low quality oil pump: Weak vacuum pull

Dry pumps: Interior membrane may dry and break with time. Creates a pulsation phenomenon resulting in weak vacuum pull or air traps

Low speed

Made for limited daily use

Vacuum in % with electronic sensor

High accuracy
Eliminates all contaminants (99.8%)

Standardization (even when product weight, shape or temperature varies)

Eliminates risks of freezer burn

Vacuum in time with gage sensor

Low accuracy

Does not ensure the removal of all contaminants, affecting shelf life.

No standardization

Runs the pump for longer than needed, affecting machine durability and production time

Control panel

Save up to 20 different programs

Automated start when closing the lid

Control panel

Max 1-6 programs on most machines

Chamber height: 6.8'' available in models 350 and over

One of the largest chambers in their category

Allows to seal high product such as whole chickens

Chamber height: around 4''

Does not allow to seal high products

Flat lid

More resistant than dome lid

Dome lid

Thinner lids tend to crack

Starts at USD $3,500
Averages USD $1,000

Parts availability

Over 20 years after the purchase

Common parts available next-day shipping

Parts availability

Long shipping delays
Choose performance and durability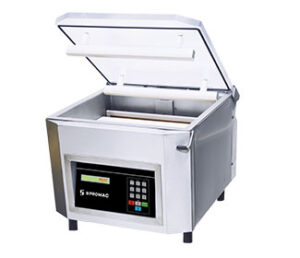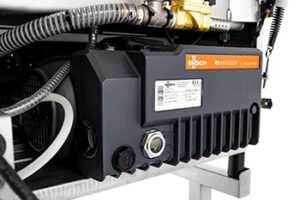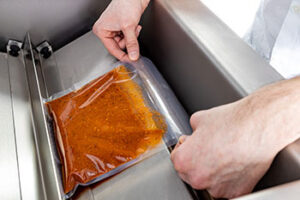 For over 40 years, Sipromac has used its expertise to manufacture high-performance vacuum sealers that are durable, increase food shelf life and eliminate waste.
For only $2,500 extra, you get a machine that will last you 5 times longer – over 25 years to be exact. That's only $1.36 a day over the average life span of a low-cost unit!
The tabletop vacuum sealer is the solution for sealing your small foods. Whether you are a start-up or an established business, this model is well-suited for small production volumes. It's compact and easy to handle, and can be used right on the table or counter to maximize your production space.